A Glimpse at the Ties between New Zealand and Xiamen
by Dr. Lifang Peng
---
In February 1942 Dr Li Lairong (李来荣), a botanist who later helped NZ cultivate the modern kiwifruit, inadvertently landed in New Zealand.
He had intended to travel from the USA to China (ROC) after completing a doctorate in soil physics in the USA. However, Japan's attack on Pearl Harbour and Hawaii forced the Dutch freighter he was travelling on to divert to New Zealand. He eventually spent 1942 and 1943 working for the Plant Research Bureau in Wellington and the Plant Diseases Division of the Department of Scientific and Industrial Research (DSIR) in Auckland.
During his stay in NZ, Dr Li Lairong cooperated with the NZ Chinese community and the DSIR, beginning to hybridise the plant that was later called "Chinese gooseberry", and then renamed "kiwifruit". In 1944, he returned to China's Fujian Province and worked for Xiamen University for some years.
---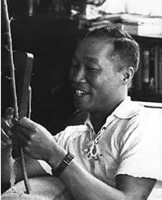 ---
I was told this early China-NZ partnership by David Harland (a son of the first NZ ambassador to China and Executive Director of the Centre for Humanitarian Dialogue) in January 2017 when I met him in Wellington. I was impressed by Harland's knowledge. He was able to narrate a story of the 1940s in great detail. It is not until recently that I have worked out the reason. Harland sent me a scanned copy of his article that was published by the New Zealand Herald in 1984. In fact, he visited Li Lairong in Xiamen (Amoy) in 1984 and made this episode of history known to New Zealanders.
---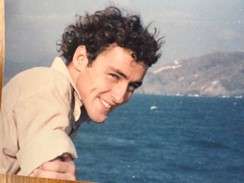 ---
Much like Dr Li Lairong who had known little about NZ before his engagement with NZ, I had little knowledge of NZ and did not expect that I would come to NZ to conduct my doctoral research. Until the autumn of 2014, I had planned to go to the University of Nottingham, but a meeting with the founding Director of the New Zealand Contemporary China Research Centre and the then Head of the School of HPPI (Victoria University of Wellington) changed my plan. This meeting made me apply to VUW. Winning VUW's doctoral scholarship, I made up my mind to decline Nottingham's offer. In late August 2015, I was on a flight to Wellington. This was how I started my life and research in NZ.
Coincidently, Roseanne Harland, David Harland's mother, lived in the same building which I had chosen. Before knowing Mrs Harland's involvement in the diplomatic relations between NZ and the PRC, I had been invited to visit her.
Mrs Harland was very hospitable and showed me an English book about Rewi Alley, Chinese porcelain, a bamboo back scratcher, a silver antique (earwax), and her son's exercise book for writing Chinese characters. Her affability and the Chinese antiques made me feel at home in a country that was far away from China. She even sent me a few Chinese ceramics, including a white and blue vase made in China's porcelain capital—Jingdezhen. I sometimes cooked Chinese food and shared it with her. She in turn treated me to Chinese tea and her favourite biscuits made by Wellington's best bakeries.
Mrs Harland was the first Kiwi I had met who knew many things about China, including traditional Chinese festivals. When narrating her experience in China, she could correctly pronounce a few Chinese words such as 劳动 (labour/work), 休息 (rest/break), 学习 (study/learn),苏联 (the Soviet Union),and 批林批孔 (Criticise Lin Biao, Criticise Confucius). These words were frequently used in China in the 1970s. I was also surprised to learn that David Harland had studied at Xiamen University, China. When David Harland came to Wellington, his mother introduced me to him.
The Harlands' experiences in China prompted me to explore the past of China and the cultural exchanges between NZ and China, which I never knew because I was not even born yet back then.
China's Reform and Opening Up was interpreted as a signal that top Chinese leaders prepared to embrace some liberal values. However, the period from 1980 to 1984 witnessed China's volatile political climate. This political situation also affected the development of art, literature, music, and the fate of Hu Yaobang and Zhao Ziyang. David Harland studied at Xiamen University from September 1983 to May/June 1984. His experience also reflected the volatile political climate.
In the early 1980s, pop music that conveyed feelings and emotions of ordinary people diffused in the PRC. Being so different from the music of grandiose political themes, pop music was seen by many Chinese conservatives as "filthy" and demoralising. Critics argued that pop music was "bourgeois music" and they used 靡靡之音 (decadent music) to refer to this style of music.
By then, Teresa Teng, a Taiwanese singer and performer, had become a cultural icon in Asia. Though Teng's songs were banned in the PRC for being too bourgeois, many Chinese secretly listened to her music. Hence, a popular saying in the then PRC was: "In the daytime, Old Deng (Deng Xiaoping) rules China; at night, Little Deng (Deng Lijun) rules (白天听大邓, 晚上听小邓)." It is not until the mid-1980s that the PRC government lifted its restrictions on Teng's music.
In the 1990s Teresa Teng's songs prevailed on the mainland. My parents lived in a small town. After the mid-1990s they bought a DVD player, big loudspeakers, and Teng's CDs. My father often used the player to play Teng's music. This helped me develop an interest in her songs. Though I do not belong to her generation, I am familiar with her music.
In the 1980s Teng was so popular that Taiwan used radio stations to play her music in the hope of persuading the mainland to pursue democracy and freedom. This was part of the "Cross-Strait Psychological War". Facing each other and being so close, Jinmen金门 (an island of the ROC) and Xiamen (an island of the PRC) became the front line of this psychological war that was characterised by campaigns of propaganda, including the use of megaphones and radio stations for broadcasting, and balloons and floating carriers for sending leaflets and other objects. The ROC proclaimed: "Three Principles of Democracy unite China". In contrast, the PRC propagated "Peacefully uniting China: One Country, Two Systems".
This psychological war aimed to collect intelligence and encourage each other's military personnel to defect. In June 1984, there was a military conflict between Jinmen and Xiamen. This cross-strait psychological war lasted until 1990.
Teng's songs were banned before 1985 not only because the mainland-Taiwan relationship was tense but also because Chinese leaders had not reached a consensus on "emancipating the mind" in the early era of the Reform. On the mainland, the singer Li Guyi (李谷一) with the Central Symphony Orchestra became a household name in China after singing xiang lian 乡恋 in 1980.
The lyrics of this song showed Wang Zhaojun's affection for her homeland and her family. Wang was a beauty in the Western Han Dynasty. The lengend has it that she was sent by Emperor Yuan to marry Chanyu Huhanye of the Xiongnu Empire in order to establish friendly relations with the Han dynasty through marriage. On her way to Xiongnu, Wang was so sorrowful and could not control her emotions.
Xiang lian was based on this story of Wang Zhaojun. However, Li Guyi was criticised by officials as "mainland China's Teresa Teng" after she sang xiang lian. This song was considered as the first pop song on the mainland and it was prohibited for several years. At the first Spring Festival Gala (1983) of the PRC, many audiences requested xiang lian via hotlines that were opened for the gala. But for the pressure from the audience and Li's performance at the first Spring Festival gala, xiang lian would have remained banned.
Although the ban on xiang lian was lifted, it did not mean that art, literature, and music could develop towards liberalism. Things took a drastic turn in the autumn of 1983, just several months after Li's performance at the Spring Festival gala.
Then, David Harland and Alison Wong were the first New Zealanders who went to Xiamen University to study Chinese on New Zealand-China Student Exchange scholarships.
According to David Harland, the year from 1983 to 1984 was "a delicate period for the University authority". On the one hand, the Xiamen Special Economic Zone was being actively discussed due to China's trend to rapid opening to the outside world. On the other hand, the Communist Party led the Anti-Spiritual Pollution Campaign 清除精神污染运动 to oppose the influence of Western values which in the eyes of the Party constituted "spiritual pollution".
In January 1984, the New York Times described: "Excerpts of Mr Deng's speech have been cited to narrow the definition of spiritual pollution to the spreading of bourgeois and other decadent ideologies and the spreading of distrust about Communism and the leadership of the party."
Harland thought this campaign perhaps led the authorities of Xiamen University to be somewhat cautious. He said: "Foreign students were on a separate floor of the dormitory building, which was locked every night from the outside…I think there was no negative intention, but the result was to reinforce the separation of the foreign students, in an English-speaking bubble, from the rich world of the Chinese students.
But, again, I must be cautious about the reasons. That was also a time before the good relations with Taiwan, the Taiwanese authorities on Jinmen still broadcast propaganda by radio, and even by loudspeaker. Perhaps this made the XMU authorities a little more cautious than elsewhere."
Despite the volatile political climate, New Zealand kept sending its students to the PRC. Harland expressed that foreign students were interested in Xiamen's beautiful environment, rich history, distinct language, and culture. As representatives of NZ students, David Harland and Alison Wong made a performance at the hall of Xiamen University to celebrate the connection between New Zealand and Xiamen University. Harland performed the famous Ka Mate haka, and Wong sang Pokarekare Ana. I was wondering how the Chinese students and teachers perceived NZ and its Maori culture.
These are some stories I have been told by David Harland. It could be said that Xiamen University and New Zealand had connections dating back to the 1940s and that NZ did not stop sending its students to the PRC even when the political climate of the PRC was volatile during the Refrom and Openning up.
Could these stories of the past shed light on the NZ-China relationship that has been affected by the rising hostility between China and the USA?
As an alumna of Victoria University of Wellington, I feel honoured to know David Harland (an alumnus of VUW) and his mother whose experiences in China in the 1970s and the 1980s have created an opportunity for me to reflect upon the past of China and some aspects of the NZ-China relations that are not well known to either New Zealanders or Chinese.
---
Acknowledgments:
The author would like to express her gratitude to the Harlands for devoting their time to this article and allowing the author to use their stories and photos in the article.
---